The Mini Murf features a 15 Amp Hour battery. That means you'll get roughly 40-50 miles per charge. Choose a 20 Amp Hour battery and get 50+ miles per charge.
* Rider weight and terrain are a factor.
A 52V battery is able to deliver the same amount of power using less current, this means you'll get awesome power from your fast fat tire electric bike while generating less heat in the motor and controller. A higher voltage also allows you to get more range out of your electric fat bike before you notice any decrease in power.
If you've got a need for speed the Mini Murf will deliver. We've equipped the Mini with the same motor, controller, and battery as our bigger bikes - They're quick! Regardless of which battery you choose you'll reach speeds of 25 MPH.
* Depending on rider weight.
This covers both bike and battery from any manufacturing defects. If you have a problem bring your Murf by the shop or give us a call and we'll have you up and running in no time.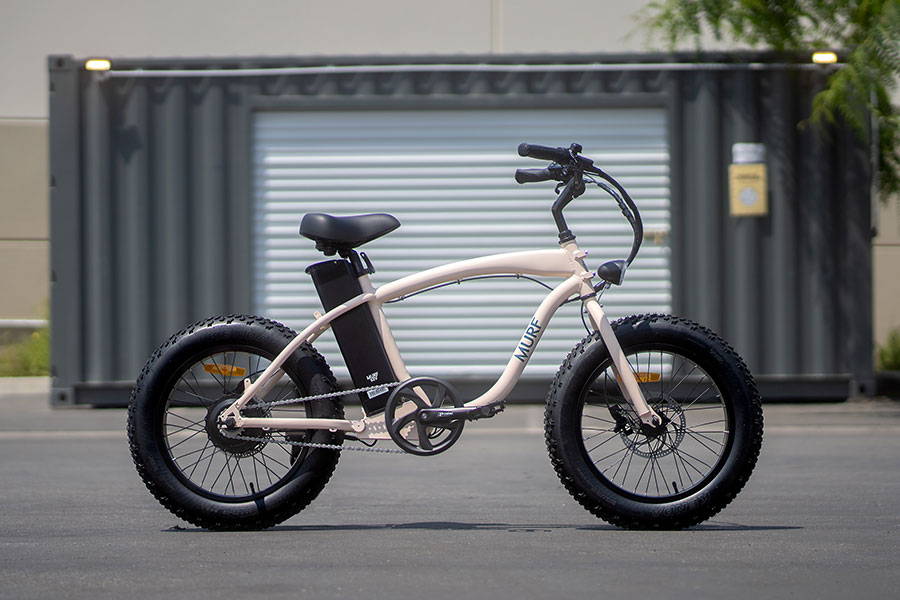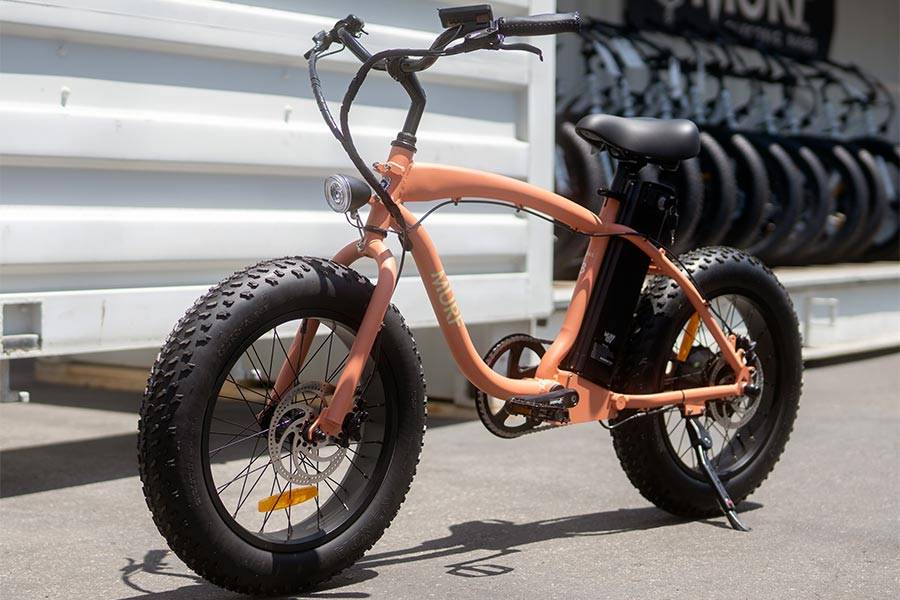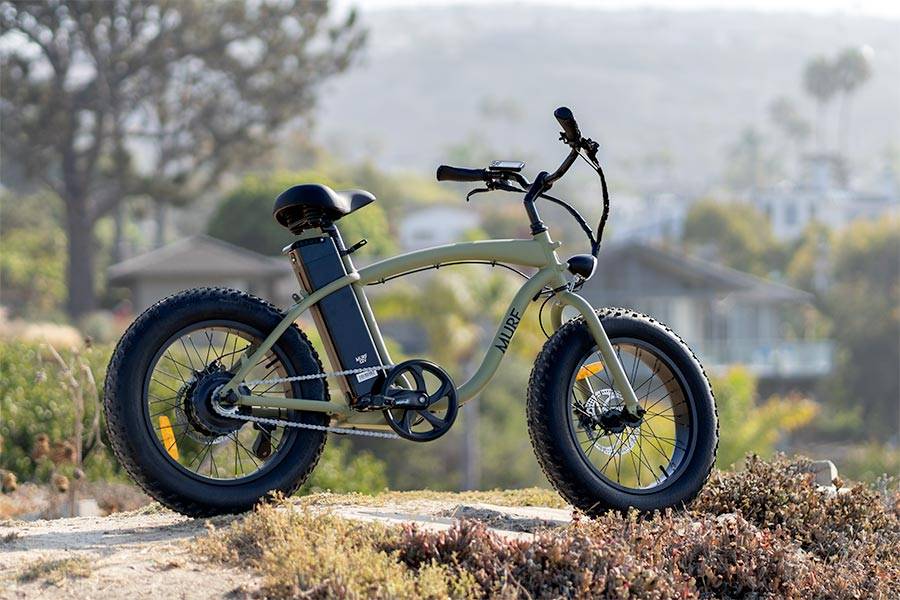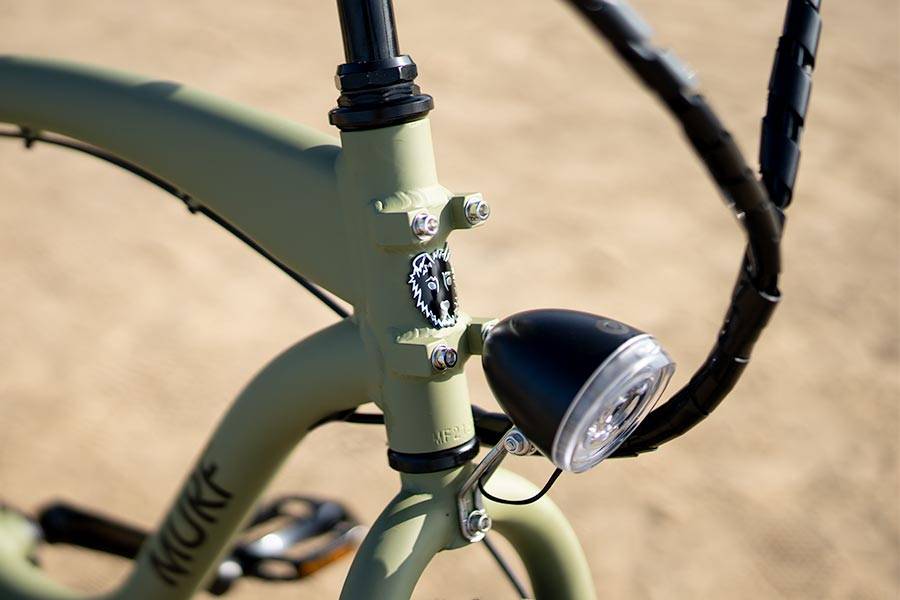 Our mini beach cruiser bike may be small, but don't let its size fool you: It packs big performance into its small frame. Even though the original idea for the Mini Murf was to create the best electric mini-bike for kids, once we rode the prototype ourselves, we knew we wanted to create an electric mini bike that would satisfy adults adults, too. The Mini Murf features all of the same parts as the Fat Murf, so you'll get the same great performance in a smaller package. It's also the best electric mini-bike for those who have a need for speed, topping out at 25 mph.
Our stock 15 Amp Hour battery will get you roughly 40 miles per charge. If you think you need even more range than that you can upgrade to a 20 Amp Hour battery that will get you roughly 25% more range per charge. Regardless of which battery you choose you'll still benefit from the power of 52 Volt technology.
25 MPH top speed
Five-level pedal assist
Thumb throttle (for off road use only)
Integrated headlight
52-volt, 15 amp-hour battery (optional 20 Amp Hour)
20" x 4" fat tire
Hydraulic disk brakes
Single speed
Roughly 55 pounds
Class 3
Two-year warranty
Maximum fun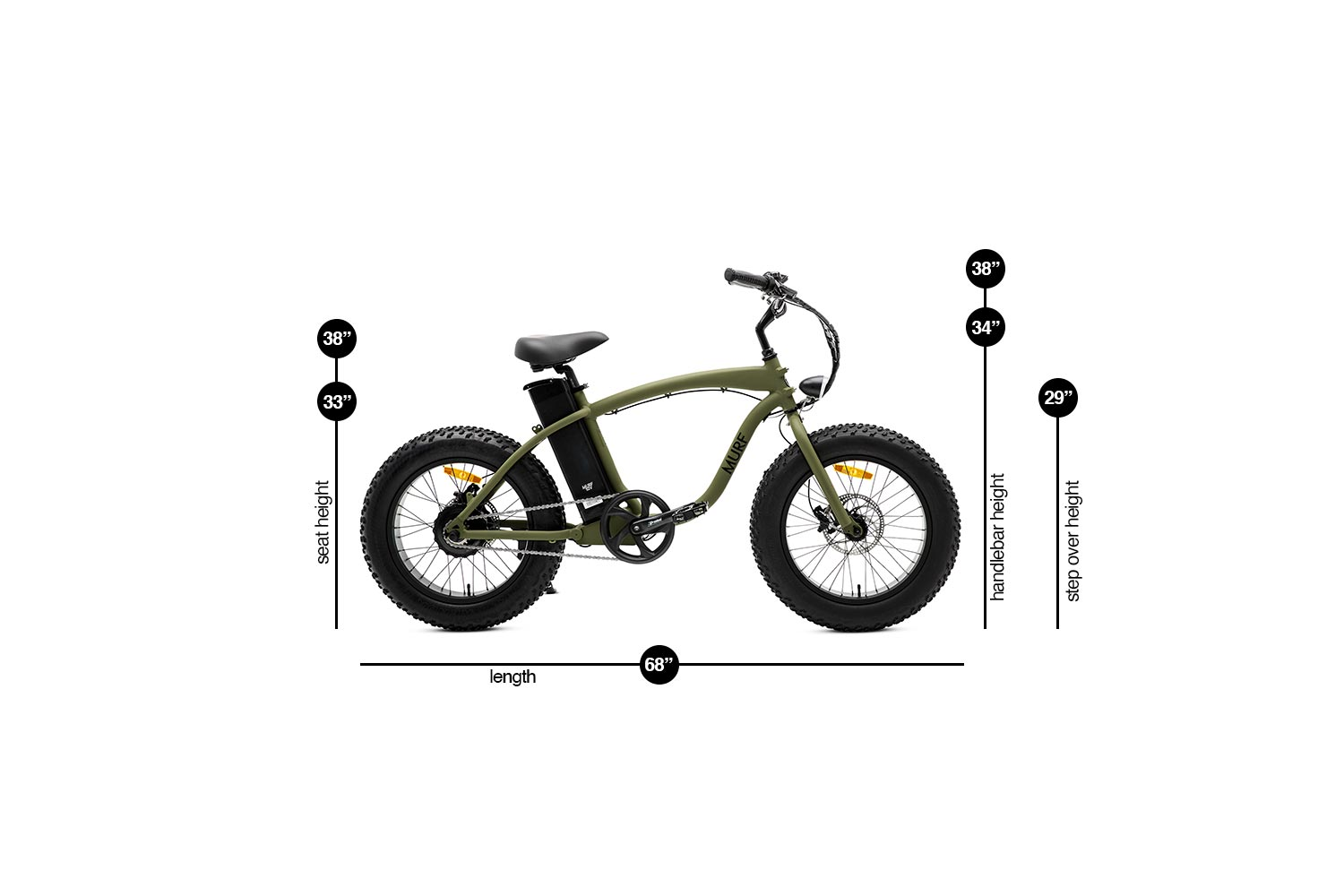 Whether you choose the standard or Pro model, you'll find the best mini cruiser for sale with Murf Electric Bikes. You'll also find that we offer the best value in the e-bike market. Shop with us and you'll get more bang for your buck! You'll be glad you bought your electric bike from us, especially if you ever need to take advantage of our warranty; we pride ourselves on our industry-leading customer service. Find a high-quality mini e-bike for sale with Murf and you'll see why so many of our customers recommend us to their friends!
Customer Reviews
11/06/2021
Katherine F.

United States
Love the my "mini murf "
Great customer service, easy to assemble:)
11/06/2021
Jennifer

United States
Christmas gift
The bike is still in its box till Christmas Will have better feed back next year
09/21/2021
Jody T.

United States
Mini
What an amazing ebike! I couldn't be happier with my purchase. I live at the beach and ride it everyday. Thank you Murf
09/16/2021
Taku K.

United States
It's really amazing!
This bike has great stability, speed and battery life. But, When I connected the headlights to the power supply, it didn't turn on. The headlights of the Fat Marf that arrived 3 months ago also did not turn on. When I checked the inside of the headlight, the switch and the board were not connected. I would like you to send me two replacements for the headlights.
09/24/2021
Murf Electric Bikes
Hello Taku, thank you for the review. Regarding the headlight...please try holding the plus button on the controller screen for 4 seconds while the bike is turned on. If that doesn't work please give us a call and we can arrange a replacement for your headlight. -The Murf Team
08/22/2021
Brett A.

United States
Mini murf
My boy loves this bike. Highly recommend!