electric cargo bike with multi-passenger options

The Alpha Cargo ebike features a 20 Amp Hour battery. That means you'll get roughly 40-50 miles per charge.
* Rider weight and terrain are a factor.
A 52V battery is able to deliver the same amount of power using less current than a standard 48V ebike battery, this means you'll get awesome performance from your cargo electric bike while generating less heat in the motor and controller.
The Alpha Cargo e bike is designed to haul a friend, kids, or anything else you can strap to the rear rack. Because it's designed to carry people we've had to limit it to 20MPH to comply with California laws governing e-bikes.
* Software limited to 20MPH. Motor is capable of higher speeds.  
This covers both the e cargo bike and battery from any manufacturing defects. If you have a problem bring your Murf by the shop or give us a call and we'll have you up and running in no time.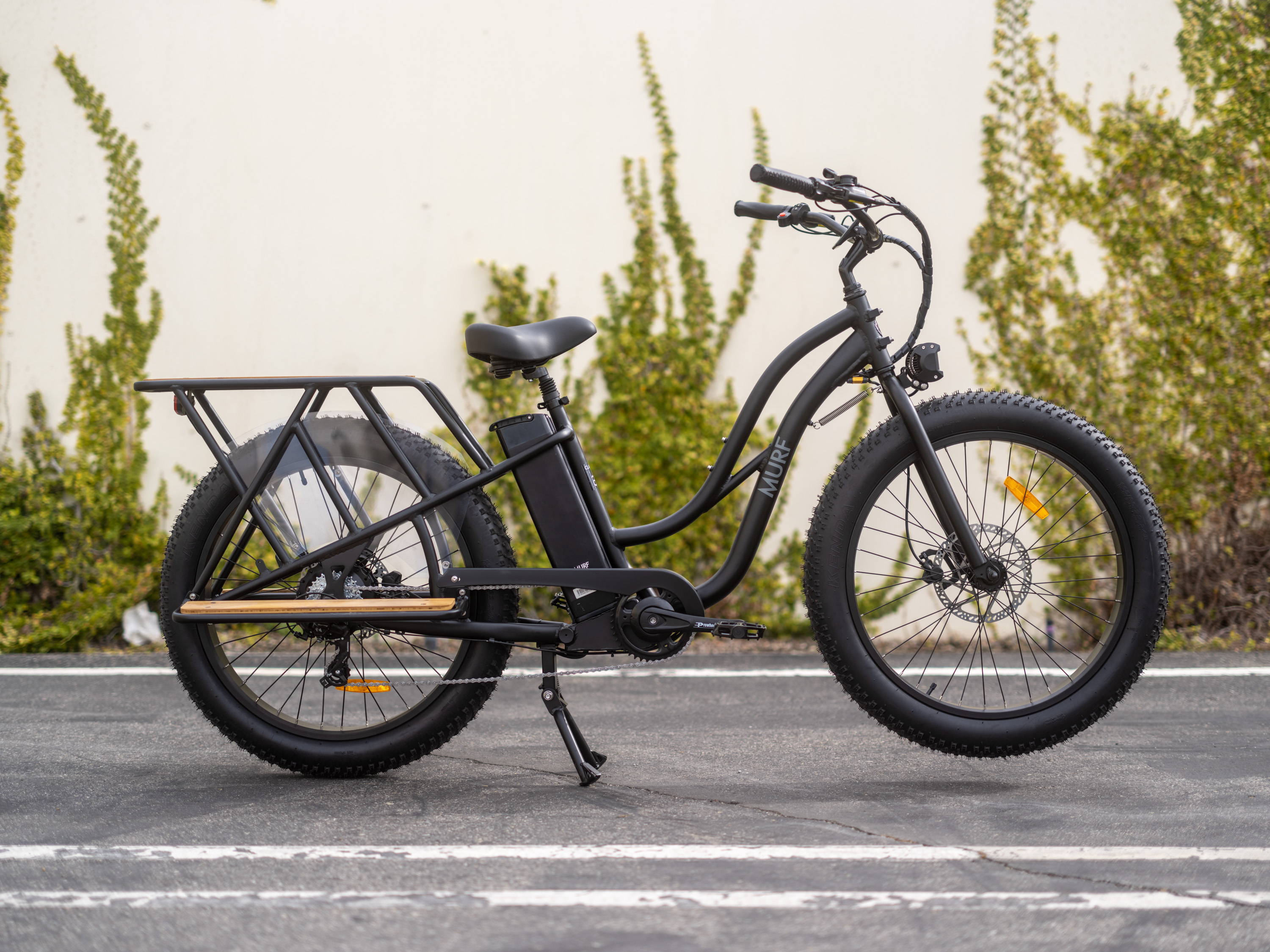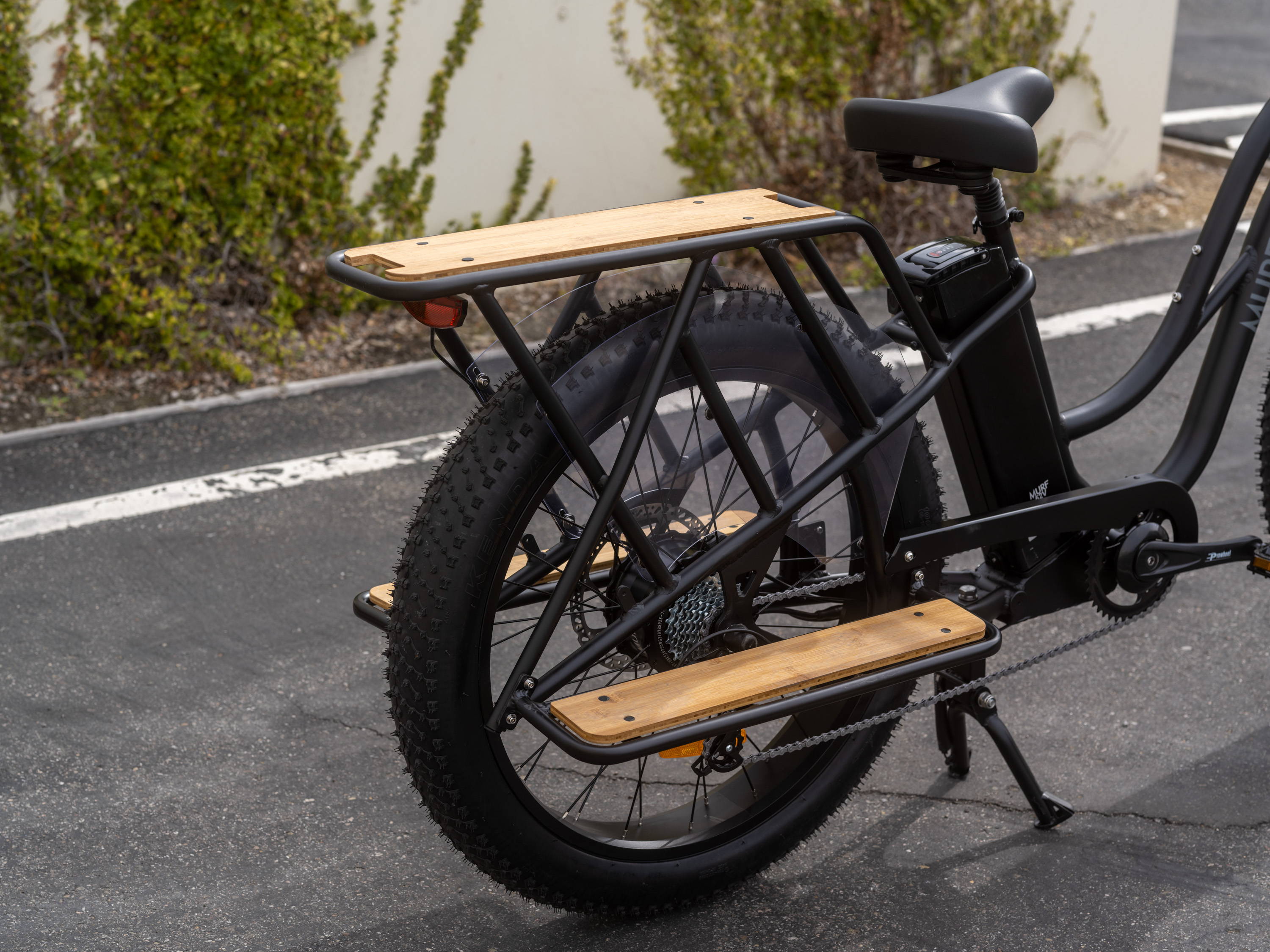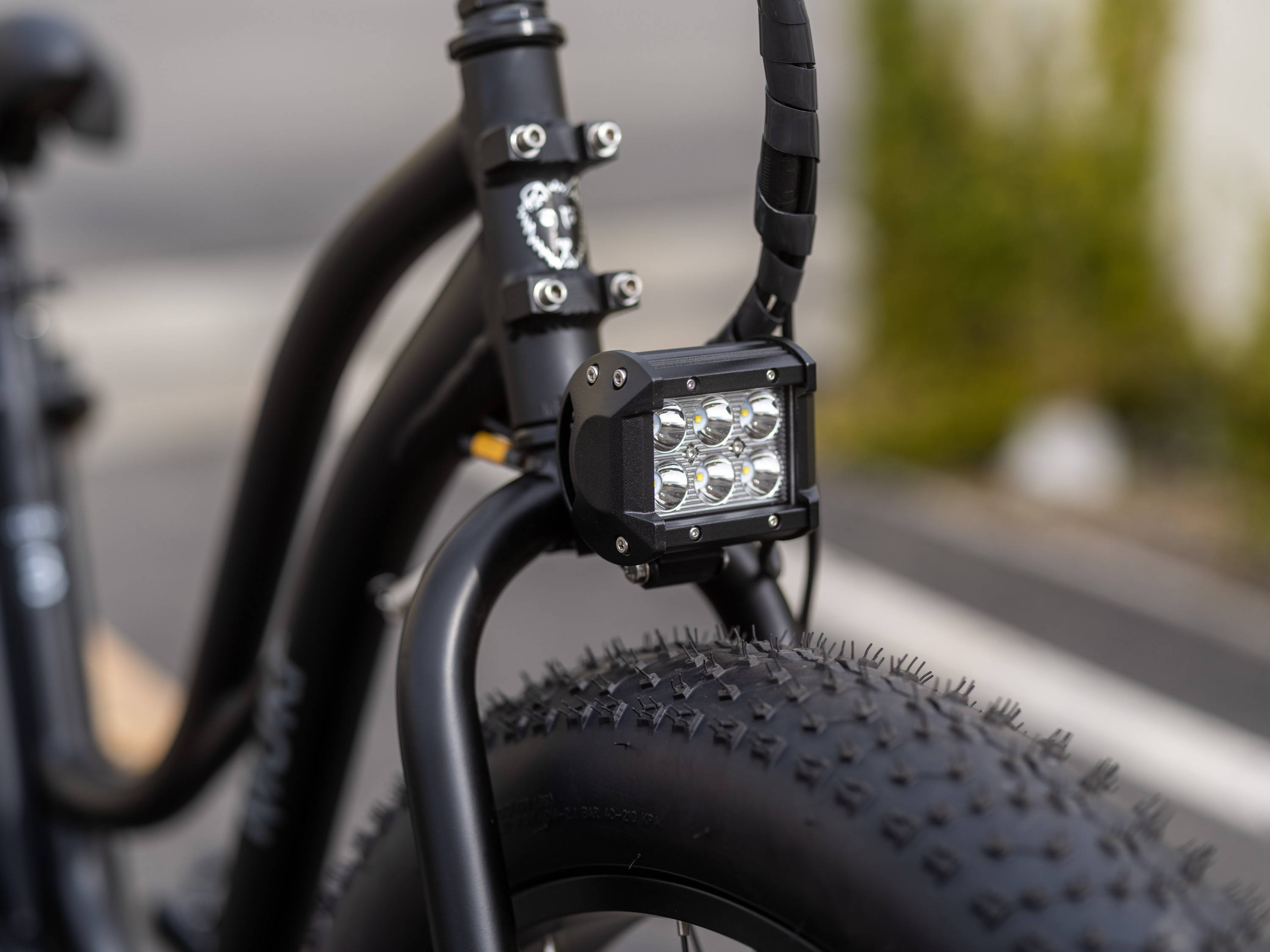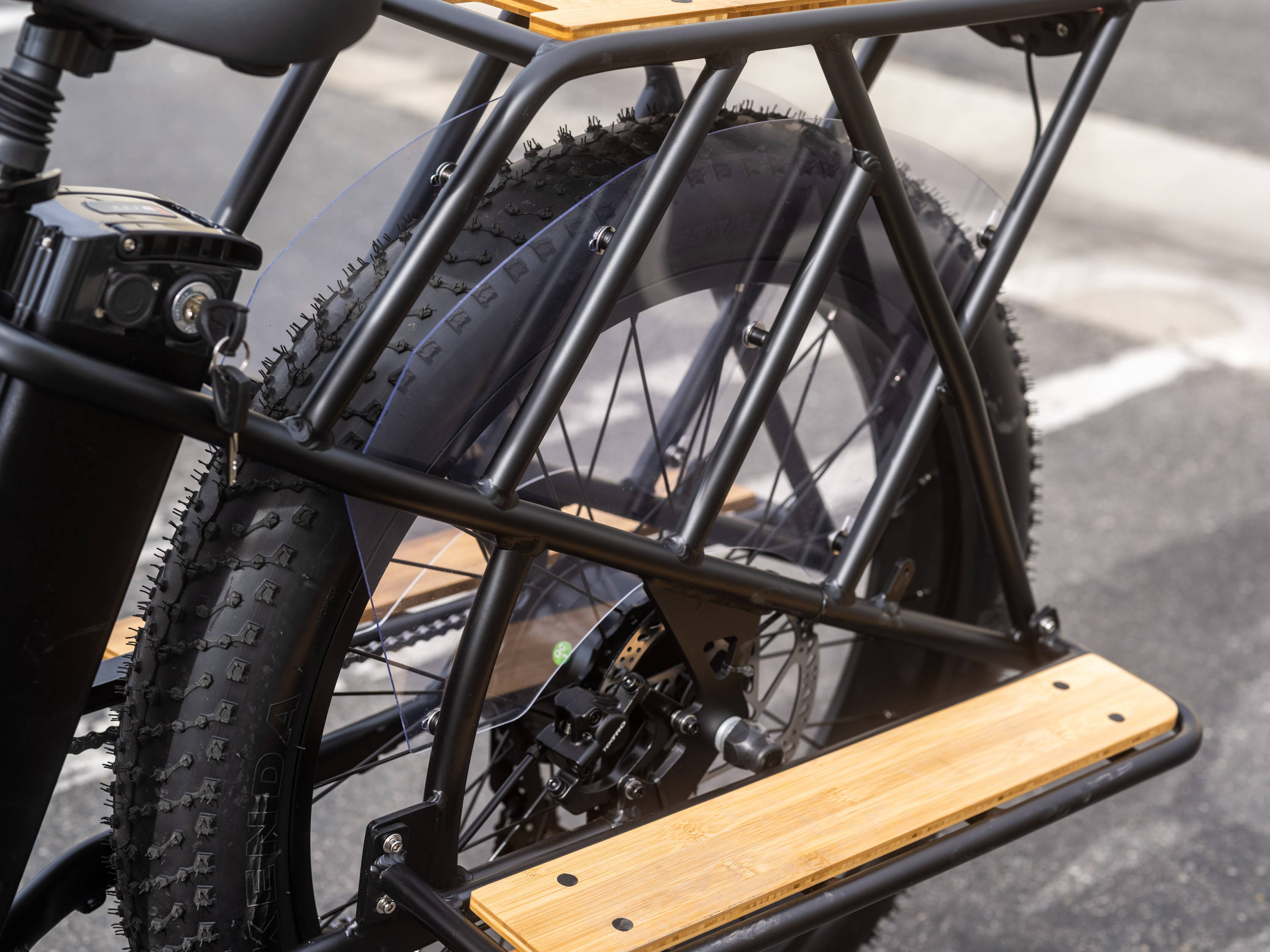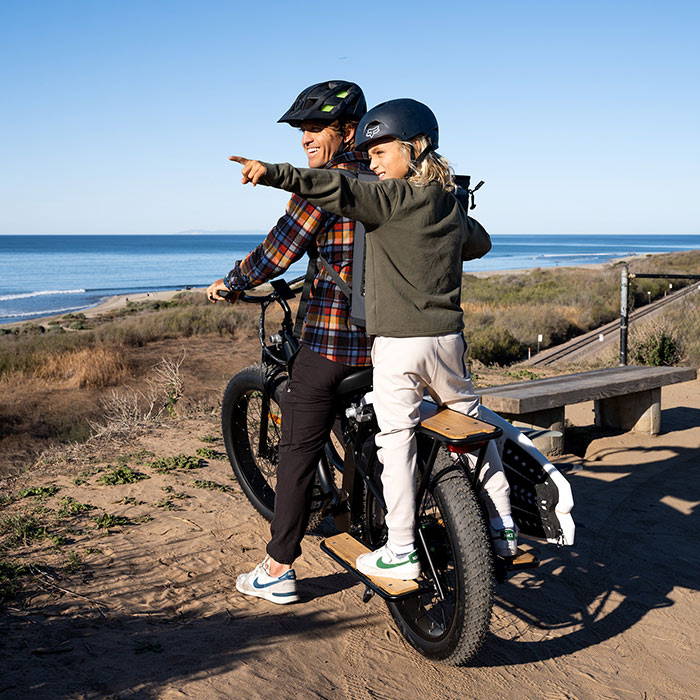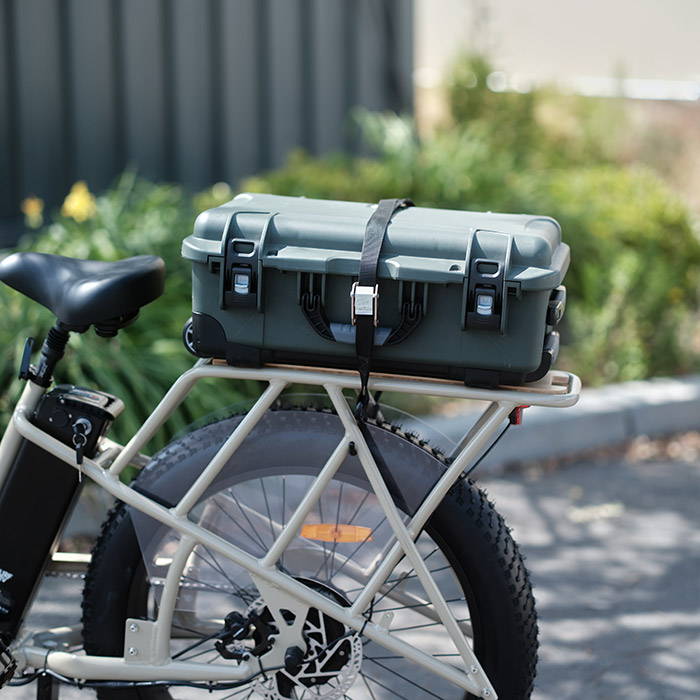 Riding by yourself is fun, but riding with a friend is even better. When we set out to make an cargo electric bike we knew it had to be fast, fun, and capable of hauling a wide variety of gear. So we included the same powerful motor that we use on our already popular Alpha Murf. Then we built in a super strong rear rack with a bamboo platform seat along with mounting points for optional running boards (foot rests). The super bright, off-road style headlight illumnates the ground far in front of you on those evening rides and the color display keeps you informed of speed, battery level, and distance travelled. If you're looking for a fun but utilitarian electric bike the Alpha Cargo ebike is the perfect electric bike for you.
20 MPH top speed
750 Watt motor (nominal power)
Five-level pedal assist
Thumb throttle
Integrated SUPER BRIGHT off-road headlight
52-volt, 20 amp-hour battery
26" x 4" fat tire
Hydraulic disk brakes
7 speed shimano gear system
Roughly 75 pounds
Class 2 or 3. User selectable.
Two-year warranty
Maximum fun
---
The rear rack on our Cargo e bikes is designed to carry friends, family, groceries, or whatever else you can think of. We also included protective shields to ensure limbs can't get near the wheel. The weight limit for the entire bike 400 lbs. Running boards are an optional accessory.
Super Bright Off-Road Headlight
---
The super bright headlight will illuminate the ground far in front of you on your evening rides.
---
The high-res color screen will keep you informed regarding speed, battery life, pedal assist level and distance travelled.
If you're looking for an awesome electric cargo bike you can't go wrong with the Alpha Cargo by Murf Electric Bikes. When you compare performance, specs, and service to other cargo ebikes in the market you'll find we offer the best value in the e-bike market. Shop at Murf and you'll get more value for your buck! You'll be glad you bought your electric bike from us, especially if you ever need to take advantage of our 2 year warranty; we pride ourselves on our industry-leading customer service. Find a high-quality cargo e-bike for sale with Murf and you'll see why so many of our customers recommend us to their friends!
Customer Reviews
Alpha Cargo
We just spent the morning taking it out of the box & assembling the bike. We actually bought 2 Alpha Cargo bikes. I sure hate to say this, but both of the bikes are not working. :( We ended up spending the evening on the phone with you service department showing him exactly what it was doing. BOTH bikes. We have unable to ride them & cannot find someone that can try to repair them. I was really excited to save & order these bikes. Now we might just send them both back.
11/08/2022
Sean W.

United States
Fantastic!
Love the bike ! Took it on our first 20+ mile trip last Sunday. Effortless event just cruised the 30A bike path along the emerald coast of Florida.
10/23/2022
Scott S.

United States
Best bikes ever!!
Very fun bikes. The quality of the bikes exceeded my expectations. These bikes have plenty of power and are very conferrable to ride. We are very exited to get our bike travel rack so we can take them on our trips.
10/20/2022
Joshua H.

United States
super cool looking bike
the bike looks great, it's throttle is a bit sensitive and maybe a little less kid friendly than other cargo bikes ive ridden. that said, it rips up hills with ease. would be cool if murf offered a padded seat or a handlebar for towing bigger kids around, they really need something to hold on to
10/19/2022
Kevin D.

United States
A beast in all the right ways!
This bike is a beast! Does everything you'd want it to and more. I'd like the attachment bolts to be a bit easier to install as everything is setup where you can not turn the Allen key 360° when putting on the running boards which makes it difficult to get them tight and that is where you are looking for the most security. Especially because it's family riding with me 98% of the time.