The Alpha Murf features a 20 Amp Hour battery. That means you'll get roughly 30-50 miles per charge depending on your riding style. If you pedal with the bike you'll get closer to the high end of the range.
* Rider weight and terrain are a factor.
A 52V battery is able to deliver the same amount of power using less current, this means you'll get awesome power from your fast fat tire electric bike while generating less heat in the motor and controller. A higher voltage also allows you to get more range out of your electric fat bike before you notice any decrease in power.
The Alpha is Murf's fastest bike. You'll reach speeds of 28 MPH (legal limit) with ease. Pedal with the bike and faster speeds are available.
* Depending on rider weight.
This covers both bike and battery from any manufacturing defects. If you have a problem schedule a service appointment on our website or reach out to us via phone or email and we'll have you back up and running in no time.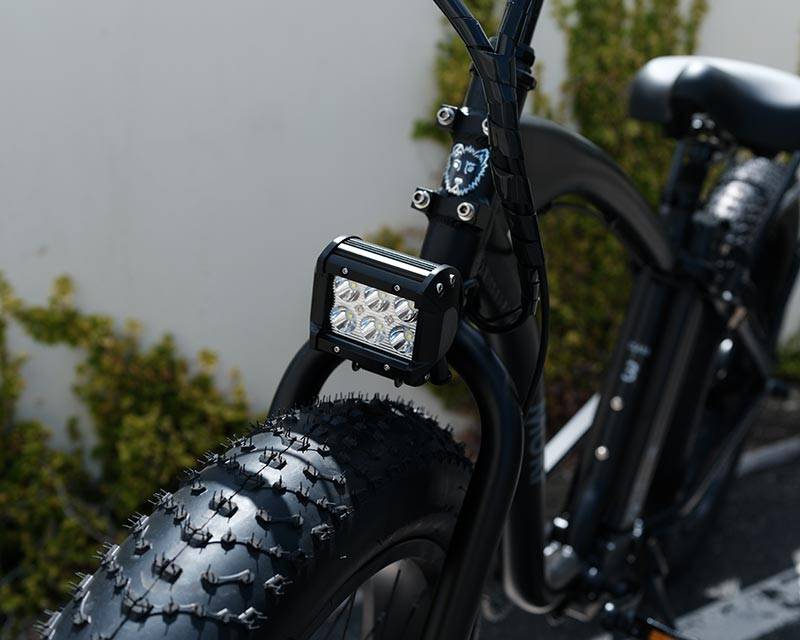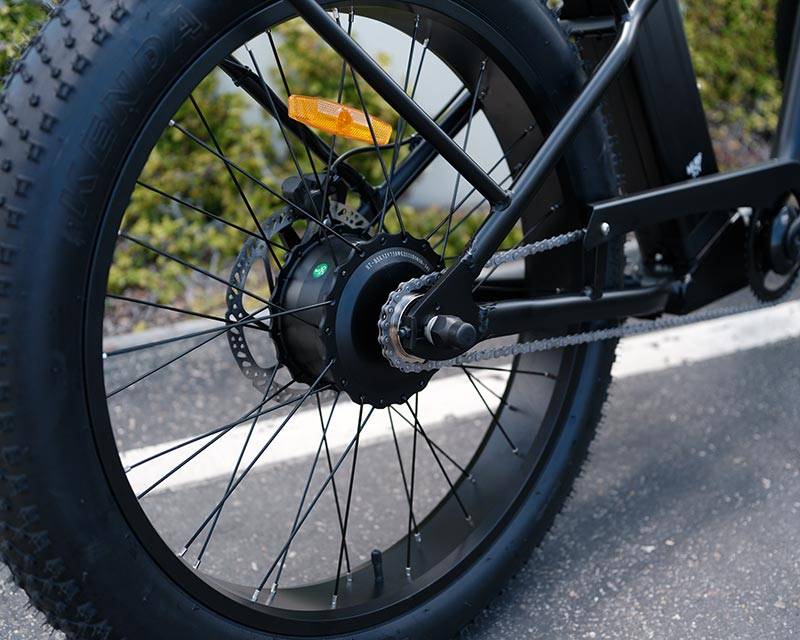 One of the main questions we get here at Murf is "what's the difference between the Alpha and the Fat Murf"? The Alpha Murf has a higher top speed (28MPH vs 25MPH). The Alpha Murf is a single speed bike while the Fat Murf is a seven speed (we're talking gears and not pedal assist levels here). The Alpha Murf features a super bright, off road style headlight along with an integrated rear/brake light. The Alpha Murf also features an upgraded color display. Over all the Alpha is a faster, more powerful bike, with a much brighter headlight, an upgraded screen, and a built in rear rack.  
28 MPH top speed (with ease)
Five-level pedal assist
Thumb throttle (active in class 2 mode only)
Integrated super bright off road headlight
52-volt, 20 amp-hour battery
26" x 4" fat tire
Hydraulic disk brakes
Single speed
Roughly 71 pounds
Class 3 or Class 2. User selectable.
Two-year warranty
Maximum speed and fun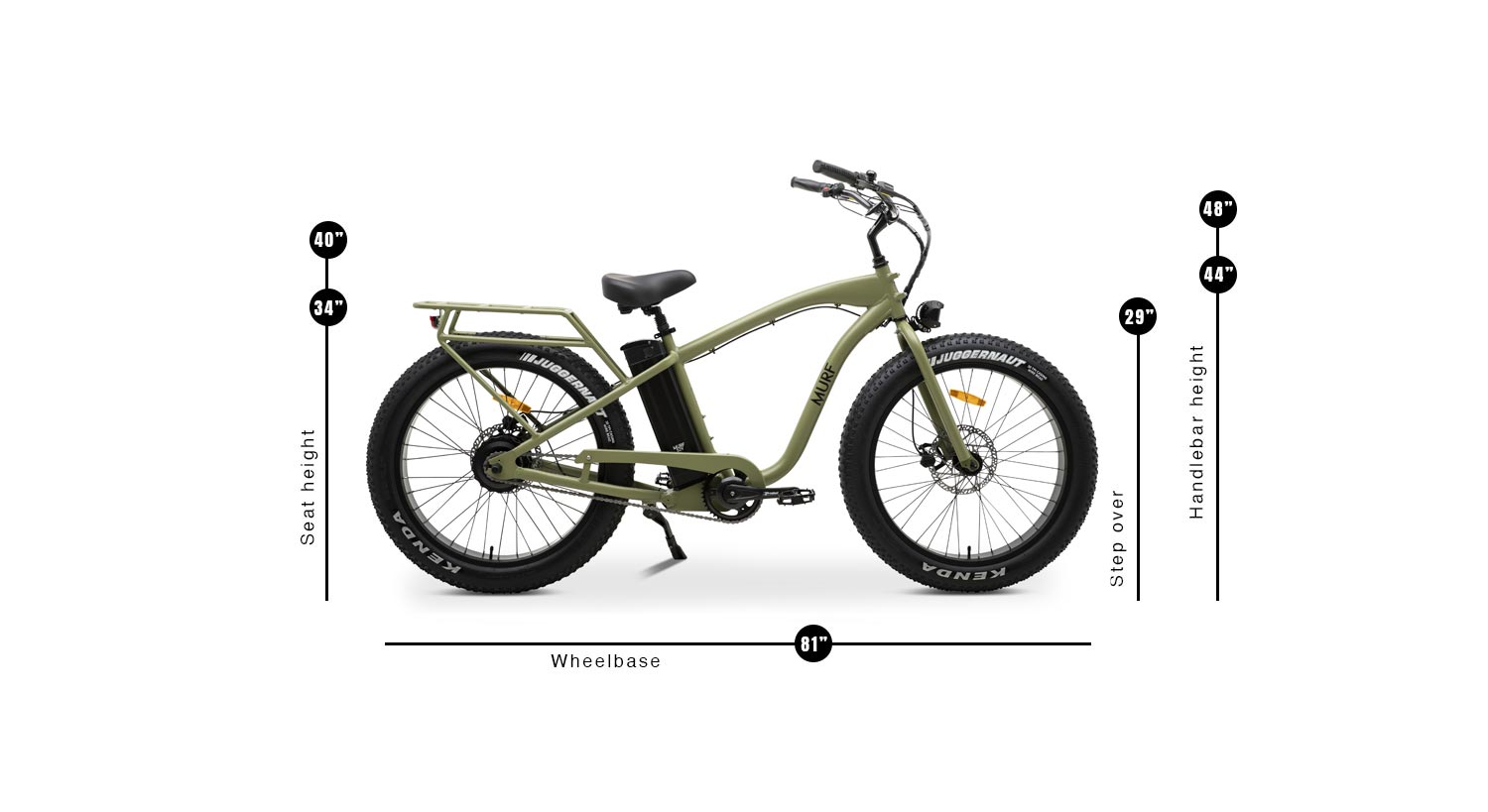 The Alpha Murf is the fastest electric beach cruiser for sale with Murf Electric Bikes. You'll also find that we offer the best value in the e-bike market. Shop with us and you'll get more bang for your buck! You'll be glad you bought your electric bike from us, especially if you ever need to take advantage of our warranty; we pride ourselves on our industry-leading customer service. Find a high-quality, fast electric bike for sale with Murf and you'll see why so many of our customers recommend us to their friends!
Customer Reviews
Worth the wait
We test drove the bikes on our visit from Denver back to San Clemente over the fourth of July. Ive been researching ebikes ever since and could not find one that matched the features and design for the price. We were planning on going back to San Clemente next year to buy the bikes and being them back but the Black Friday sale for 2 bikes was too hard to resist and after finding out that shipping was free it was a no brainer. The bikes shipped after a couple of days and were delivered damaged free and packed extremely well. I assembled both bike with no issues. All that i had to do was assemble the front tire, handle bars, seat, pedals, and light. I charged the battery and took a test drive. Silky smooth motor, brakes were fantastic, and i love the cruiser style upright position. Comfortable to ride and no issue with only having one gear as the pedal assist more than makes up for it. Construction is great and really like that the rear rack is welded to the frame as one piece. Brought my neighbor over to check them out and he is wanting them for him and his wife. Looking forward to warmer weather to take long rides. Couldnt be happier with the bikes and sales support with my questions.
11/08/2022
Sean W.

United States
Killer bikes !!
Awesome experience , build went easy and riding is a joy!
10/06/2022
John C.

United States
Sick Ride
This bike is a must have, long lasting battery and plenty of power. Going to get my wife the Alpha Cargo. Thanks Murf
08/23/2022
Merrick S.

United States
08/23/2022
Greg L.

United States
Great Service and Product. Love the Brand!
Such a cool product. Murf has thought through everything that is important in an electric bike.