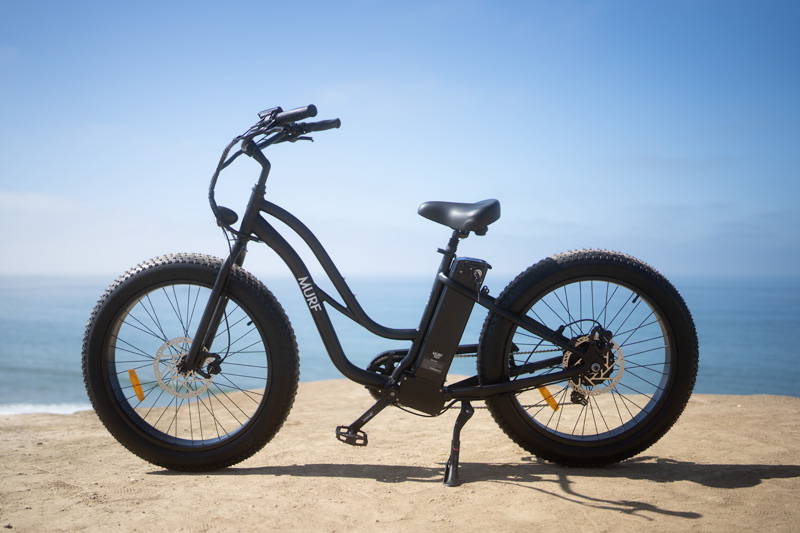 If you're looking to buy an electric bike online, but you're unsure what brand, model, or style is the right choice for you, you're in the right spot. We've been building and selling electric bikes for women (and men) for the past 6 years and we've learned a few valuable pieces of information along the way. Here's a list of our top 5 recommendations for women to consider while looking for the perfect ebike.
1. Electric bikes are heavier than normal bikes, but that doesn't mean they're all difficult to handle. The battery adds a significant amount of weight to the bike, but if you can keep that weight positioned low on the frame you won't notice it as much as if it's positioned higher on the frame. For example, some electric bikes position the battery up high, on a rack mounted behind the seat. We recommend staying away from this type of setup if you're concerned about weight. Opt for a battery that's mounted vertically behind the seat like our best selling e-bike, the Fat Pax (pictured below).
2. Battery quality is important; It determines how far you can ride on a single charge and how much power the bike is capable of generating. Lower quality batteries will wear out quicker than a high quality battery and require replacement much sooner. So while it may seem like a good idea to purchase a budget bike with a cheaper battery, in the end you'll likely pay more by not going with a quality product to start. We recommend choosing a bike that comes with Samsung, Panasonic, or Sony cells that are wired in a 52 Volt configuration with at least 15.6 Amp hours of capacity. A 52 Volt battery featuring high quality cells will outperform and outlast a cheaper battery and save you money in the long run.
3. Braking power is probably the most important safety feature when it comes to an electric bike. Electric bikes move faster and weigh more than a normal bike and therefore require more stopping power. We recommend steering clear of cable operated brakes and opting for an electric bike that features hydraulic disk brakes. You'll spend a little bit more for a bike with hydraulic brakes but brakes are the last component you want to skimp on.
3. Warranty is a biggie. If you're going to spend your hard earned money on an electric bike you want to know that the company you're doing business with is willing to stand behind their product for years to come. At Murf Electric Bikes we give a two year warranty on every one of our models. That being said, the sad reality is that money companies say they have a warranty but when push comes to shove they're either no where to be found or unwilling to do the right thing and help you out. We recommend calling each brand you're considering and talking with them on the phone prior to purchase. If you're unable to reach anyone or if the salesperson seems annoyed that you're asking questions, definitely steer clear.
4. Service is necessary from time to time. Eventually you'll need to replace your brakes pads, your tires will be balled (from all the riding you're doing), or you'll just want a tune-up to make sure all is well with your bike. Many online only stores have no service department and offer little to no after sales support should you need it. At Murf we have a full service department with technicians available to help you at at any time during business hours. If you're close to our Southern California retail location we welcome you to bring your bike in any time you feel like it. If you purchase one of our bikes online and need after sales support we're happy to jump on a video call to help you diagnose any problem you might have and figure out the best way to get it fixed. Our after sales support has been the biggest contributor to our success as our
5. Frame Style is the last thing to consider when purchasing an electric bike. In the past there were electric bike frames made specifically for women that featured step through frames. Today we see both men and women purchasing and riding this style of e-bike because it's much easier to get on and off the bike. So rather than thinking of the step through frame as specifically meant for women we now think of it as a frame style meant for anyone (man or woman) who wants to be able to get on and off the bike with less effort and more control. In our opinion, if you're a woman or a man under 5'8" tall you should absolutely consider a step-thru e-bike.