Our 52 Volt, high quality Samsung cell batteries will get you between 35-50 real-world miles per charge. This depends on rider weight, terrain, and riding style.
While in class 3 mode you'll easily reach speeds of 25 mph. Switch it into class 2 mode and use the throttle to reach speeds of 20 mph.
This covers both bike and battery from any manufacturing defects. If you have a problem bring your Murf by the shop or give us a call and we'll have you up and running in no time.
Fat Pax: The Best Step-Through Electric Fat Bike
Is the Fat Pax the best electric beach cruiser ever made? We think so! The 52-volt battery provides high capacity and high torque, meaning that you'll be able to ride up to 50 miles on any type of terrain with ease. The 4-inch fat tires help to absorb bumps for a smoother ride. Hydraulic disk brakes will safely bring you to a stop, and the step-through frame will allow you to get on and off the bike with ease. The control screen mounted on the handlebars gives you five levels of pedal assist to choose from. You can also use the thumb throttle and take it easy, riding your step-through e-bike like a moped. If you're looking for a new step-through electric fat bike, you won't go wrong when you buy a Murf.
Service Makes a Difference
Since the beginning, we've worked hard to be a different breed of electric bike company. One difference between our step-through bike and our competitors' products is the quality, but another is that the competition will sell you a bike but disappear when you need service. Not so with Murf. We credit the success of our company to our outstanding customer service, and the result is many satisfied customers who eagerly refer their friends to us. At Murf Electric Bikes, we offer a two-year warranty that we honor without hesitation. We're committed to offering the best service in the step-through e-bike business.
High-Performance Batteries

When it comes to batteries for electric bikes, bigger is always better. The battery for the Fat Pax comes in at 52 Volts and 20 Amp Hours. What does that mean? Simply put, a higher voltage battery is able to deliver the same amount of power using less current, this means you'll get awesome power from your bike while generating less heat in the motor and controller. A higher voltage also allows you to get more range out of your bike before you notice any loss in power. Amp hours can be thought of as the amount of gas your battery can hold. A higher amp hour number means you'll get more range per charge. We regularly have customers tell us they're able to ride up to, and even over, 50 miles per charge.
You can certainly find a cheaper fat tire step-through electric bike out there, and you can definitely buy a more expensive e-bike, but you'll have a hard time finding a better value than a Murf. Once you compare the quality of our components, the reliability of our bikes, and the included warranty, you'll see that a Murf electric bike is the best value in the e-bike world. Take a look at the reviews for our fat tire step-through bike, or ask a friend who has one of our bikes what they think. Then, order your own Fat Pax e-bike and see for yourself.
| | |
| --- | --- |
| Suggested Use: | Cruising, Commuting, Offroad |
| CA E-Bike Class: | Class 3 or 2 (user selectable) |
| Warranty: | 2 Years Both Bike & Battery, Original Owner |

| | |
| --- | --- |
| Drive Modes: | Thumb Throttle (class 2 mode only), Intelligent 5 Level Pedal Assist, Manual Pedaling |
| Estimated Min Range: | 35 miles (40 km) |
| Estimated Max Range: | 50 miles (56 km) |
| Max Speed: | 25 mph (40 km/h) (Full Electric) |
| Bike Weight: | 70 lbs (27 kg) |
| Total Payload Capacity: | 275 lbs (125 kg) |
| Drivetrain: | 7 Speed Shimano® |
| Brakes: | Tektro® Hydraulic Disc Brakes |
| Wheel Size: | 26 inches (66 cm) |
| Tire Brand: | Kenda® |
| Tire Width: | 4 inches (10 cm) |

| | |
| --- | --- |
| Battery Cell Brand: | Samsung® |
| Battery Chemistry: | Lithium-Ion |
| Battery Voltage: | 52 volt |
| Battery Amp Hours: | 20 amp-hour |
| Battery Watt Hours: | 1,029 watt-hours |
| Charge Time: | 6 Hours |

Frame Colors:

Obsidian Black

Denim

Arctic White

Desert Sand (matte)

Frame Material:
Aluminum
Motor Type:
Hub Motor - 500 watt (nominal power) 750 watt (peak power)
LCD Display Readouts:
Speed, Distance, Battery Level
The Fat Pax is Murf's best selling electric bike. It features a step through frame for easy entry and classic beach cruiser styling. The fat Pax comes standard with a 52 volt battery which will help you get up to 50 miles of riding per charge. If you're looking for the best electric bike with beach cruiser style the Fat Pax is the bike for you.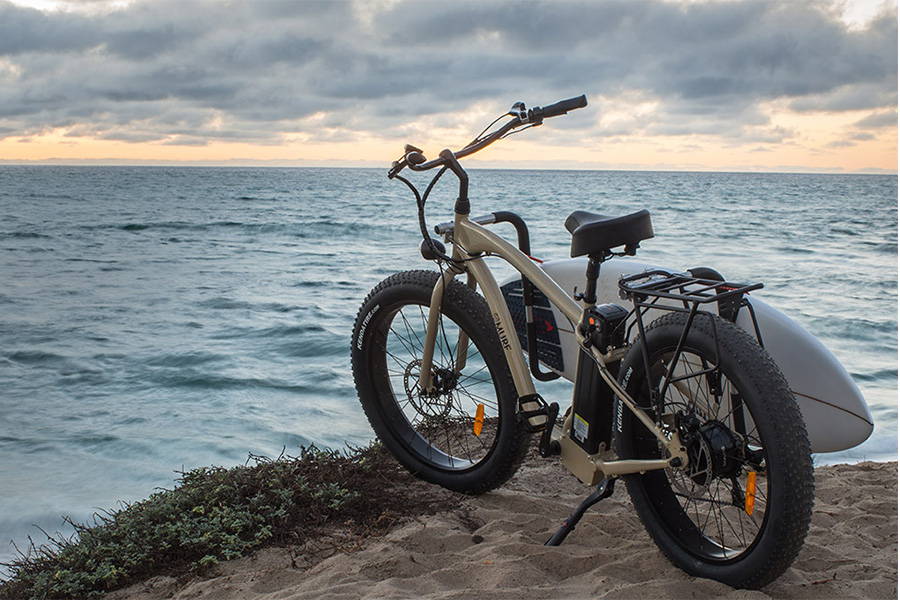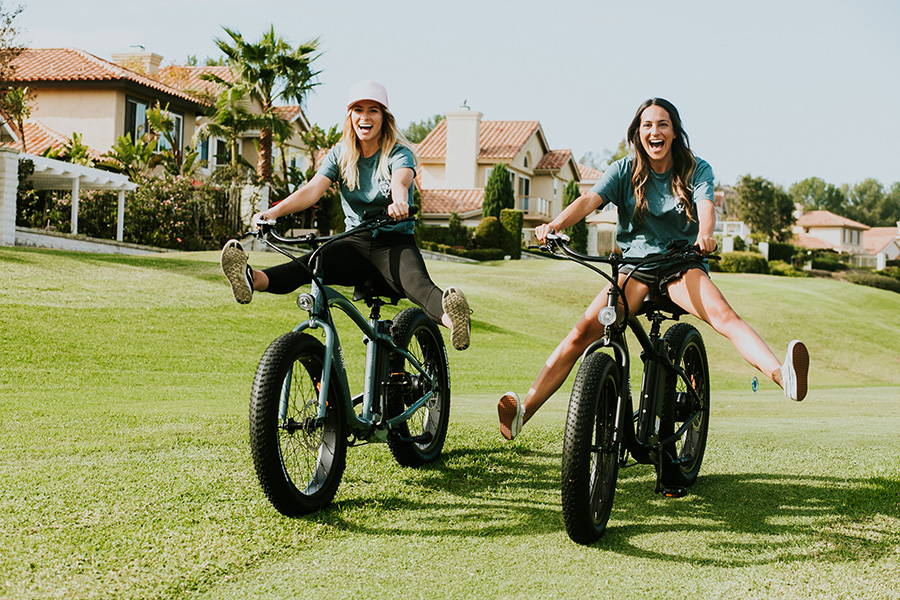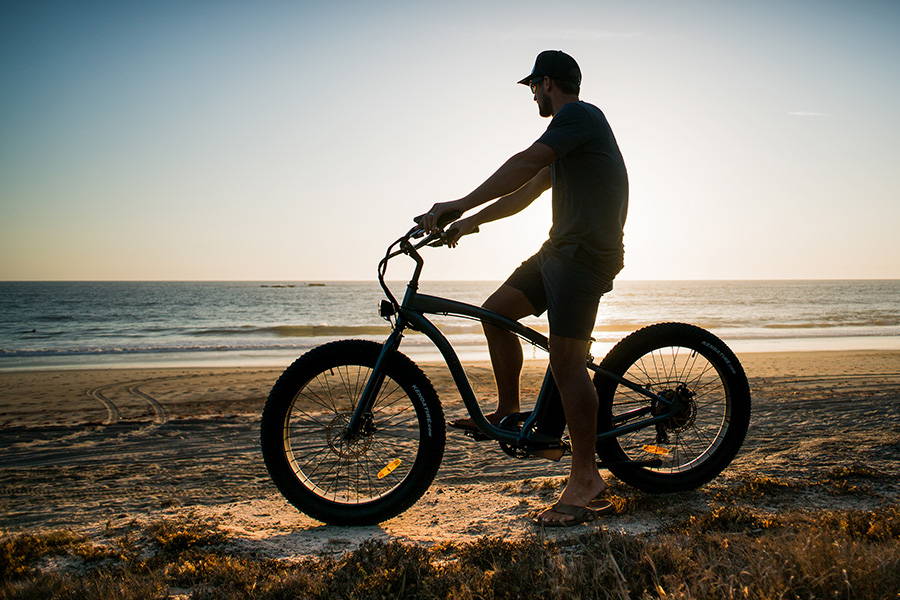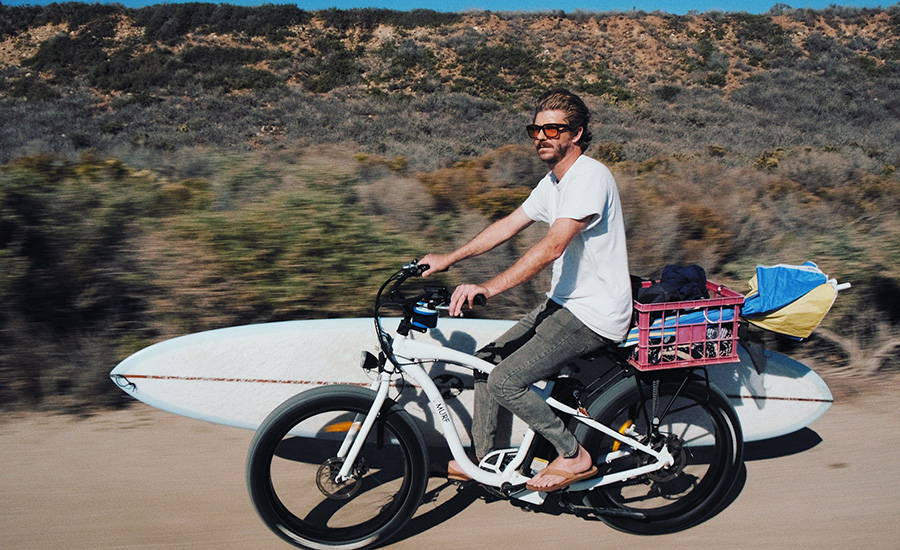 ---
Customer Reviews
08/31/2022
Jennifer W.

United States
The best!
Murf bikes are the best, and customer service is even better! Cam was absolutely awesome, and the bikes and accessories we got are perfect! So glad we went with Murf!
04/22/2022
Robert B.

United States
Amazing bike!
So much fun to ride! And we'll built to boot!
03/07/2022
Sten M.

United States
Awesome Bike!
Amazing bike - love riding it everyday either to the store or the beach!
11/09/2021
Eric K.

United States
so sick
best purchase ever no complaints
10/13/2021
Christopher B.

United States
Great Ebike
So fun! So fast! We have 3 total-2 are from another ebike maker and we both love the Murf the best! This is my wife's bike and we did a 23 mile ride recently and she did not loose a single bar of charge!? Love it!