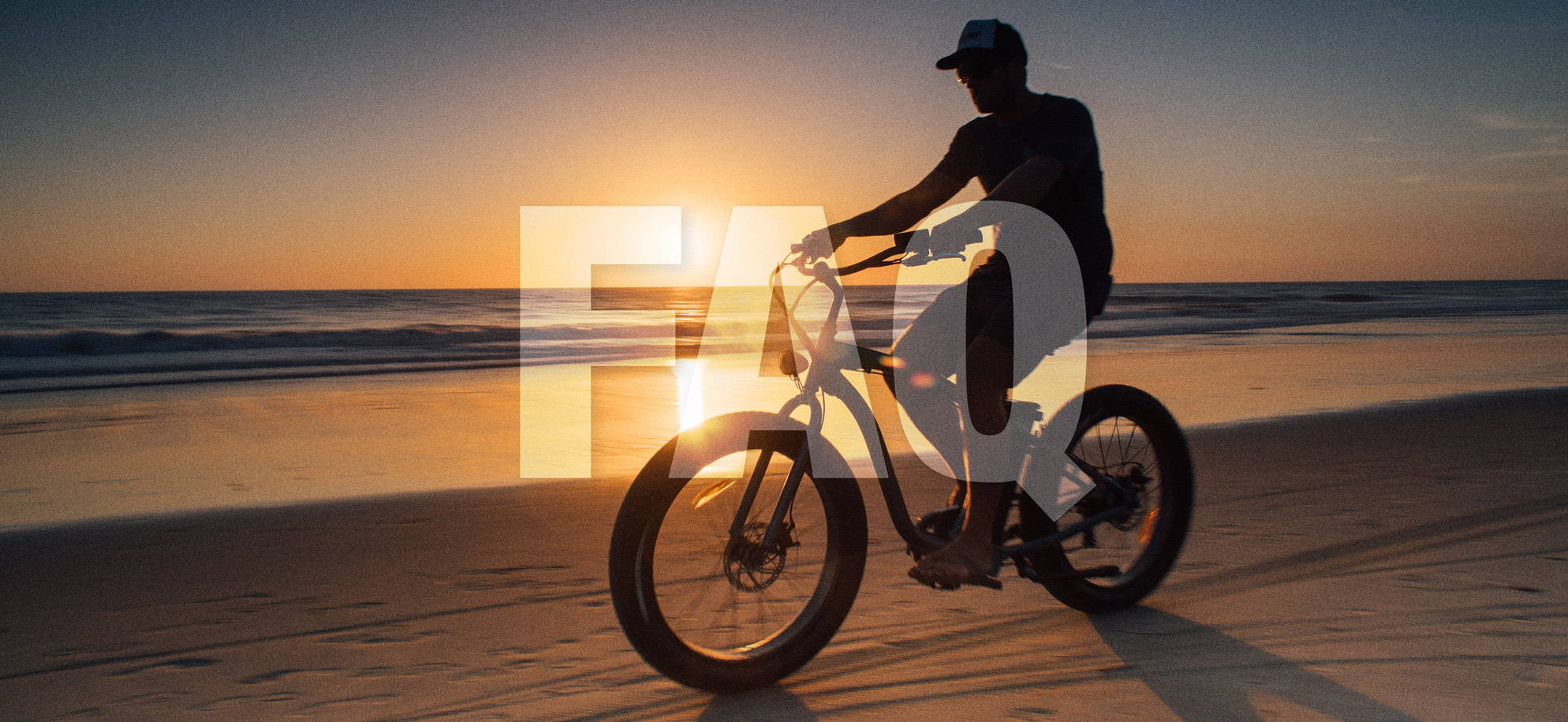 When you choose PayPal at checkout you can signup for a PayPal account and then apply for financing through them. For more details click the PayPal banner below.
How Do Electric Bikes Work?
E-bikes run on an electric motor that draws power from the lithium ion battery pack. Most electric bikes can be propelled forward by manually pedaling, using the throttle in addition to pedaling, or using just the throttle. Each Murf Electric Bike has all three modes built in.
Are electric BIkes Safe to Operate?
At their core, electric bikes operate like regular bicycles, and can reach similar speeds. Just like a non-electric bicycle, there are brakes that allow you to slow down and stop. Please follow all normal safety precautions that would follow with a normal bicycle. Always adhere to the rules of the road.
What's the difference between throttle control vs. pedal assist?
The pedal-assist mode works in tandem with the electric motor to give you a little boost. Imagine someone who starts pushing you on a regular bicycle only when you start pedaling.

The throttle only mode works like the throttle on a moped or motorcycle. You can hum along or quickly pick up speed using only the electric engine.
How fast do Murf electric bikes go?
The Fat Murf and the Fat Pax Step-Through can reach speeds of 25 mph using throttle only.

The Izzy Beach Cruiser and the Pax Step-Through can reach speeds of 20 mph using throttle only.

If you pedal in addition to using the throttle you'll likely go faster.
How far can i travel on a single charge?
You can expect to travel 25-40 miles on a single charge. If you're lighter you'll likely get closer to the high end of the range. We've tested our bikes many times to give you an accurate real world range. Most of our riders get between 30-35 miles per charge.
Do I need a license or insurance?
A license and insurance is not needed in California. The Wikipedia article "Electric Bikes Laws" is a solid source, but always check your local/state laws for the most up to date information.
What legal class is my murf electric bike?
All Izzy Beach Cruiser Models are Class 2. A helmet is recommended.

All Pax Step-Through Models are Class 2. A helmet is recommended.

The Fat Murf and Fat Pax Models are Class 3. A helmet is required.
where can i buy a murf electric bike?
You can buy a Murf E-bike on our website and at our new retail shop located at 212 N El Camino Real, Suite B, San Clemente, CA, 92672. We are located behind The Grill and across the alley from Nomad's Canteen. We do not sell anywhere else currently.
Am i able to test ride a murf bike?
Sure! Cruise by our new retail shop in San Clemente, California if you would like to test one out.
How many volts do I need?
E-bikes with a 36 volt setup are suitable for light riders and flat areas. A 48 volt setup is recommended for most riders and individuals who live in areas with lots of hills. Every Murf comes with a 48 volt battery.
how long does it take to charge the battery?
how long until a battery needs to be replaced?
With proper care, the batteries can last approximately 700-1000 full cycles. As with other lithium-ion batteries (your phone or laptop computer), they hold less charge over time. Just think of the electric bike battery like a car battery. Different chemistry same concept. As an example, if you rode your Murf an average of three times a week you can expect to get roughly 5 years out of it.
Is the battery easily removable?
Yep! You can remove the battery with a simple turn of your key.
can i charge the battery through a normal wall outlet?
Yep, the included charger plugs in to any normal wall outlet.
Do murf electric bikes come with a warranty?
We are proud to offer the original owner a 2 year "Super Rad" warranty with each Murf e-bike. This covers both bike and battery from any manufacturing defects. We are always happy to answer any questions and work with you to resolve any issues that pop up.

We take care of everything in house. If you ever have an issue just bring it by the shop and we'll handle it.
Duh! No really, our goal is to introduce as many people to electric bikes as possible. We understand that means it won't always be a Murf. We recommend comparing a few different brands. Make sure to check what the voltage of the battery is, the capacity of the battery in amp hours, the type of brakes used, and the warranty offered. Good luck in your search!